fair enough SE. possibly, im quite paranoid to look for insults where there are none.
"more life in it".. as i said before i dont consider trading pieces as the pinnacle of fun. i play for fun, where fun does not necessarily equal winning, but often rather the opposite. playing for win usually requires "to be slave" of certain mind set/approach and gives no room for "irregularities". fun for me is elsewhere, but most dont understand it anyways so it would be pointless and boring to babble about. lets look at something else ..
i used, consciously?, what is called
irregular opening
, which i later found out to be called
Van 't Kruijs Opening
. by making first move
e3
, in this database, 34.8% games was won by white, 20.2% draw and 44.9% meant loss for white, while IDs response
e5
havnt changed the chances for white much: 39.5% won, 18.4% draw and 42.1% loss. too bad the database doesnt have enough data and/or is incomplete to be able to analyze at least a couple of next moves from our game in terms of win/draw/loss %, possibly due to the .. irregular opening.
"we all wait for the other side to make mistake".. personally, i believe, i like (to wait for the other side) to come up with a "plan". if by waiting for mistake you mean one player has a "plan", is able to predict the game say 5 moves ahead and set her/his pieces in such way the opponet gets trapped because s/he fails to spot it, then yes, its given we all wait for mistake, however, that was not the case in our game i think.
i made my mistake here: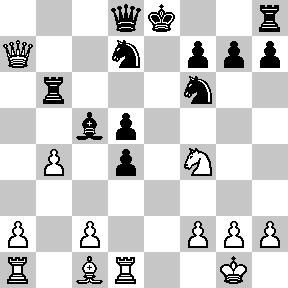 with my pawn to b4 as i had better options and from here the order of events, for next couple of moves, was then expected as ID is no fool making "mistakes".
to anyone paying attention the cause of my mistake is obvious, but yet again its not excuse, its to admit it.
PS 3 moves ahead is not nearly enough, you are right about that.